engl.
In times of a pandemic, going to the theatre becomes a distant memory that slowly fades away. She She Pop are unable to show 'Canon' (which premiered at HAU Hebbel am Ufer in November 2019) in front of an audience. Such an uncontrolled means of transmission from an individual body to the euphoric collective of all those present is a highly questionable act at the moment. But they do vow to carry the torch on. In fragmentary accounts, they will conjure up unforgettable stage moments from memory and narrate a canon – evening for evening anew, together with their audience.
To do this, She She Pop are switching to a medium just as transient as theatre, albeit not as public and thankfully less infectious, at least in these times: individual telephone conversations. Phone tree, helpline or hotline: "Telephone Canon"isn't a show, it's a service. Whoever calls up will get one of the cast of "Canon" on the phone and hear about an essential moment in the performing arts. But the list is also open for your own tales and entries into the canon.
de.
In Zeiten der Pandemie ist der Theaterbesuch eine ferne Erinnerung, die langsam zu verblassen droht. She She Pop können 'Kanon' (Premiere am HAU Hebbel am Ufer im November 2019) nicht vor Publikum zeigen, ein solch unkontrollierter Übertragungsweg aus dem einzelnen Körper direkt in das euphorische Kollektiv aller Anwesenden ist im Moment suspekt. Doch sie tragen die lodernde Flamme weiter. Mit lückenhaften Berichten beschwören sie unvergessene Bühnen-Momente aus der Erinnerung wieder herauf und bilden erzählend einen Kanon − Abend für Abend neu und gemeinsam mit ihrem Publikum.
Dafür wechseln She She Pop zu einem Medium, das genauso flüchtig ist wie das Theater, nicht so öffentlich, aber dafür weniger anfällig, zumindest in diesen Zeiten: das individuelle Telefongespräch. Telefonkette, Seelsorge, Hotline: "Telefon-Kanon" ist keine Show, sondern Service. Wer anruft, bekommt eine*n der verschiedenen Gesprächspartner*innen aus dem Cast von "Kanon" ans Telefon und hört dann von einem unverzichtbaren Moment mit den darstellenden Künsten. Die Liste ist aber auch offen für eigene Erzählungen und Einträge in den Kanon.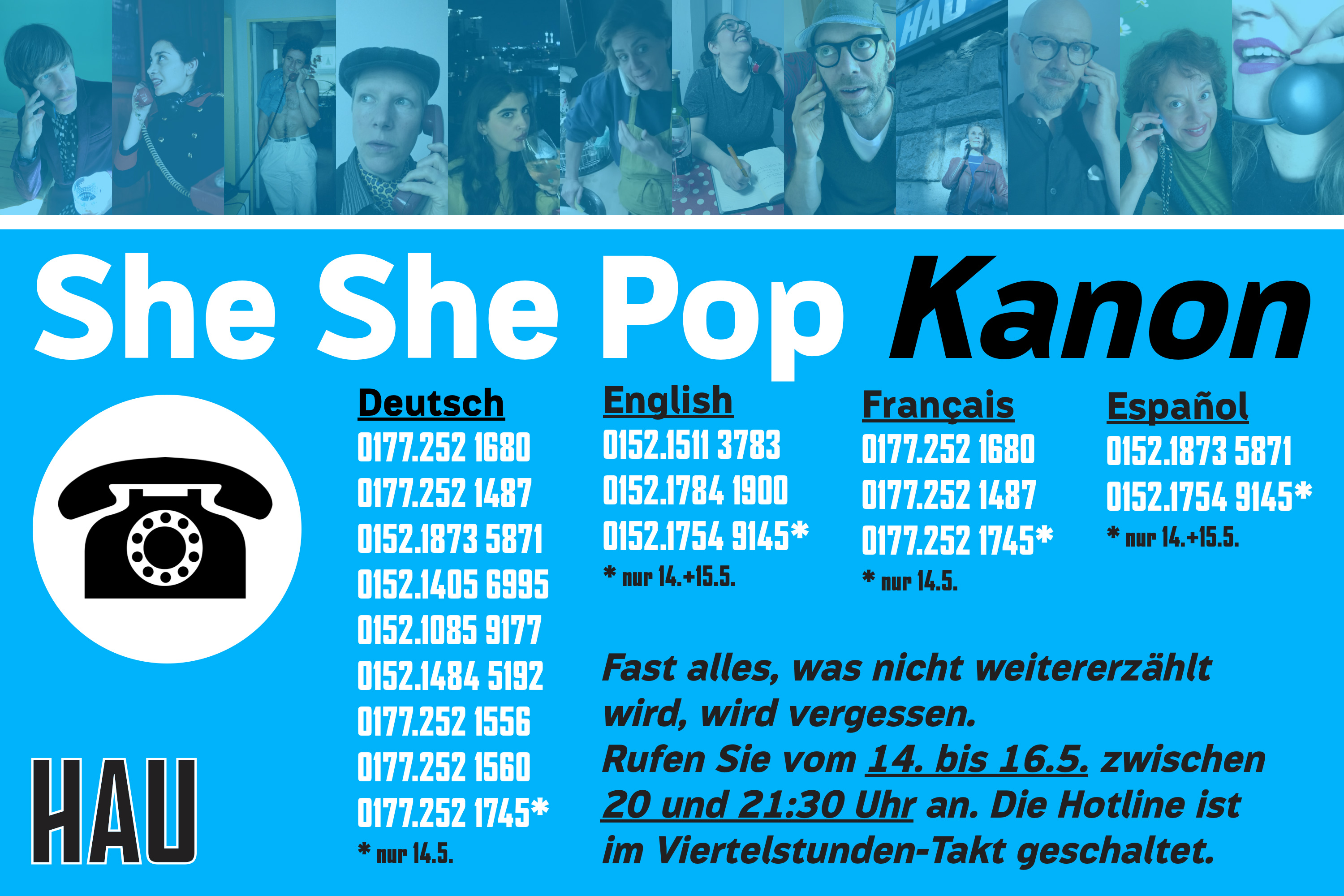 Idee und Konzept: Tatiana Saphir & She She Pop / Mit: She She Pop, Antonia Baehr, Dan Belasco Rogers, Jean Chaize, Brigitte Cuvelier, Sean Patten, Tatiana Saphir, Leicy Esperanza Valenzuela, Zelal Yesilyurt / PR, Kommunikation: ehrliche arbeit – freies Kulturbüro / Freie Mitarbeit Kommunikation: Tina Ebert / Finanzadministration: Aminata Oelßner / Company Management: Elke Weber