A Very Wilde Story; The True Story of the Marriage of Ida and Henry Wilde. – Eine wirklich wilde Geschichte: Die wahre Geschichte der Ehe von Ida und Henry Wilde.
By Ida Wilde
Author: Keren Ida Nathan (Ida Wilde)
Edition: Kollektiv Tod Verlag / make up productions
Hardcover, 36 pages
Languages: English/German/Hebrew
ISBN: 978-3-00-045012-9
Limited edition: 500
14 €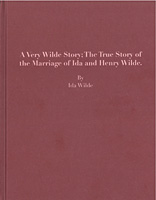 BUY NOW for only 14eu BEFORE IT SELLS OUT!!!!!!
Order the book here or here.
(All proceeds are equally shared between the author, The bookseller, and the publishers; who are artist's themselves)

This BEAUTIFUL little book is the all new hardcover re-print of the original 2003 handmade artist's edition (printed by Chicks Hell Trash Prod.) now long gone! A Multilingual Queer adult Victorian graphic novella choc full of drawings, which tells a wilde tale in GERMAN, ENGLISH and HEBREW of a marriage that isn't always a marriage, a dandy who isn't quite yet a dandy and a family in the making.
<><><><><>
Ida Wilde began writing and drawing this story as a kind of farewell to the cozy and eccentric marriage that Henry and she had established, thinking it was about to end… Little did she know that it was only the beginning. Though the original objective was to write a piece for an anthology on drag, she ended up drawing her life with Henry, in which a peculiar kind of drag had been born and from it a wonderfully large extended family. It was at this time that the two became a (Victorian) couple; Ida taught Henry how to cultivate the appetite of a dandy fond of society and passionate about art. Finding their home in an unconventional marriage of letter writing, smoking and donning silk cravats. Both titillated by well crafted objects, homosexuals with strange tastes, fetishists of social codes, manners and excellent textiles, playing with and residing in a wildly domestic idyll.
<><><><><>
This is the book that started it all! A completely true and accurate representation in drawings and text, of the very real Wilde Family!! Graced with a beautiful epilogue by Gili Ben-Zvi on the nature and naturalness of family!



*******

The book was published on the occasion of The Wildes, a salon performance presenting The Wildes for the very first time to a larger audience, in the cozy context of their drawings, slides, love-letters, songs, and plays. The Wildes premiered in ausland, Feb. 2014.



Impressum

First printed 2003 by Kollektiv Tod Verlag
This edition published in 2014 by Kollektiv Tod Verlag with the support of make up productions Berlin, Germany. This edition was printed on the occasion of The Wildes, concept and creation by Keren Ida Nathan and Antonia Baehr, and performed by Henry Wilde (Antonia Baehr) and Ida Wilde (Keren Ida Nathan). Premiered in ausland, Berlin, 2014.
Copyright © 2014 Keren Ida Nathan, Gili Ben-Zvi, Kollektiv Tod Verlag, make up productions GbR, All Rights Reserved.
Original drawings and story by Ida Wilde (Keren Ida Nathan) Epilogue by Gili Ben-Zvi. Produced by Gisa Schraml, Administration by Barbara Greiner, Alexandra Wellensiek for make up productions. Graphic design and layout by Itamar Lerner Digital reproduction Druckwekstatt in Kulturwerk des bbk Berlin GmbH, Mariannenplatz 2, 10997 Berlin. Printed and bound by Druckerei Conrad GmbH Breitenbachstraße 34-36, 13509 Berlin. e-Mail: mail@druckereiconrad.de www.druckereiconrad.de
Original German translation by Mathilda Morings, second German translation by Conrad Noack, original Hebrew translation by Noam Ordan, second Hebrew translation by Yael Stein, second Hebrew copyediting by Gili Ben-Zvi, Itamar Lerner, English copyediting by William Wheeler ,German copyediting by Mirjam Junker
Copyright © 2014 Keren Ida Nathan, Gili Ben-Zvi, Kollektiv Tod Verlag, make up productions GbR, All Rights Reserved.