RIRE / LAUGH / LACHEN, the LP
The vinyl of "Laugh" is available again.
Produced by Gallerie d'Arte Moderna e Contemporanea di Ferrara and Xing, Bologna. Edition of 300 numbered copies.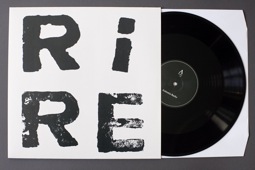 watch video here !
Available at:
Soundohm (Milan)


From a project by Antonia Baehr (2010)
Produced by: ART FALL '10 Ferrara contemporanea/Gallerie d'Arte Moderna e Contemporanea di Ferrara and Xing
Label: Xing
N° cat: X003 (2010)
LP 300 copies, hand numbered
E 20,00
I like to laugh. I laugh often. I am often seen laughing.
Antonia Baehr was sitting at the window of her small but stylish apartment in Berlin having an existential conversation with herself, or to put it more exactly, one of her many selves. Running a hand through her sharply cropped brown hair, she asked herself; if I were to see me amongst a group of other dapper characters, how would I describe myself? The one with the brown hair? The one who dresses well? The one with a moustache smoking a pipe? No, she said to herself, letting some smoke glide from her lips towards the ceiling, no. I would describe myself as the one who laughs. The one who likes to laugh, the one who is often seen laughing.
The record Rire, Ridere, Laugh, Lachen comes from the homonymous piece about laughing as laughing of the Berlin artist Antonia Baehr. In front of a score and with her hands on the turntable, Baehr explores this expression as a sovereign entity, in separation from causal baggage; jokes, tickles, narrative, humor, joy, looking at the thing itself: the sound and shape, the music, choreography and drama, the rhythm and the gesture of laughter. For the listener, contamination is an unavoidable by-product.
On the occasion of the Art Fall '10 performance series curated by Xing at the PAC Pavilion of Contemporary Art in Ferrara in 2010, a limited edition record was produced presenting two miniature studies on body linguistics and the laughter of the Baehr family (Antonia and cousin Martin Baehr – relatives Bettina, Jani, Fanzel, Pauline, Henry, etc, remain outside). This experiment of consanguineous comparison through vocality, arises from the commission of scores on laughing entrusted by Antonia Baehr to artists, friends and acquaintances that merged into the performance Rire.
Her father Ulrich, one of the people involved, relaunched with the following research hypothesis: Does the Spengler family's laugh, for example, differs significantly from that of the Baehr family? a question that provided the basis for the variations that merged into an anomalous musical suite, now on this record.
PS. With two copies of the record it is possible to make a DJ session, comparing A side (Antonia Baehr, daughter) with B side (Ulrich Baehr, cousin) who perform the same laugh score.
XING
Via Ca' Selvatica 4/d – 40123 – Bologna
perform@xing.it
www.xing.it
www.liveartsweek.it