engl.
a film installation by Antonia Baehr & Jule Flierl & Isabell Spengler,with Werner Hirsch and Jule Flierl, in a visual installation by Nadia Lauro.
"DIE HÖRPOSAUNE is a metabolizing landscape. It is impossible to say where it begins or ends. It is a sequence of openings that can absorb and expel. The eye, the ear, the body, the watching and the listening—they all are breathed in with that first inhalation, despite the distance from and mediation through the camera." – Luise Meier
DIE HÖRPOSAUNE (The Hearing Trombone) is a film installation that stages a concert in an intimate immersive space. Hearing and breathing don't happen naturally here, but are instead organized through spherical head-shields and earphone connections. Two performers vocally interpret the three-dimensional content of pop-up books that show the insides of a humans' body and opulent flower bouquets, by emitting subtle, insalivated and pre-verbal sound. They play to a small audience seated around them in unusual postures of attentive listening. At the end the two performers move in a spaceless room and sing a baroque song in an invented language.
A reappearing musical motif of DIE HÖRPOSAUNE is the baroque "Song of the Cold Genius" by Henry Purcell. This song has been famously performed by the counter tenor and queer icon Klaus Nomi in New York of the 1980's, while he was already suffering from the effects of HIV. He was one of the first public figures to die within the AIDS pandemic and his interpretation of the song directly anticipated his untimely death.
The rehearsals to DIE HÖRPOSAUNE by Antonia Baehr and Jule Flierl, accompanied by scenographer Nadia Lauro, started at the beginning of the COVID-pandemic. New questions around the intimacy of being together in shared spaces and of the intrusiveness of sharing breath emerged and fed the imaginary world of the dream-like film installation, realized in collaboration with filmmaker Isabell Spengler. In a surround-sound environment, the film installation offers an experience of remote closeness mediated through exuberant images and tactile vocal sounds.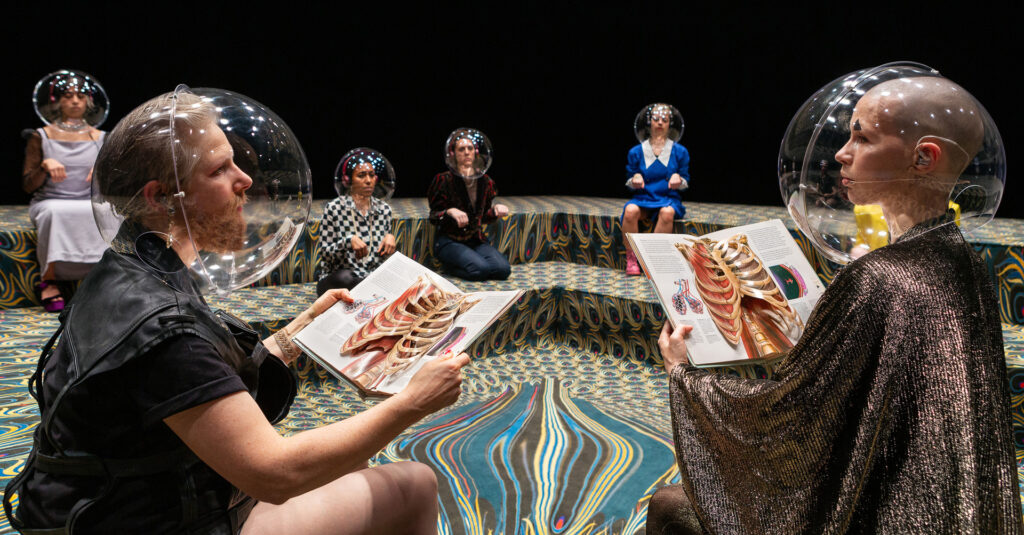 Photos: Anja Weber